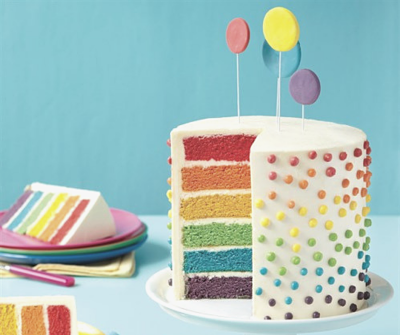 The kids or children are one of the most exciting ones when it comes to celebrating birthday. The word birthday itself evokes a sense of excitement, fun and thrill amongst them. Be it their own birthday or birthday of loved ones, their plans are always ready way before than we can expect. The key attraction of any birthday is undoubtedly 'cake'. With a surge in the trend of cutting cakes, people have started preferring home baked cake for their family. So, we hereby present 3 quick and easy to make birthday cake recipes that are quite popular among kids.
The following are the three most favourite birthday cakes among kids:
Chocolate cake
The word 'chocolate cake' itself brings sheer joy and happiness amongst kids. So, let us quickly learn as to how we can prepare chocolate cake recipe at home easily.
Ingredients
1/4 cup Nestlé a+ nourish Milk
150 g Powdered Sugar
150 g Butter
125 g Maida (Flour)
3 Eggs
1.5 tsp Baking Powder
3-4 tbsp (25 g) Cocoa Powder
1/4 tin (100 g) Nestlé MILKMAID
4 tbsp Cocoa Powder
1 tsp Vanilla Essence
50 g Butter
Recipe:
Step 1: Firstly, the oven should be preheated at 180⁰ C.
Step 2: Take a baking tin spread flour on it.
Step 3: Take a vessel and sieve baking powder, cocoa powder and maida together. Keep it separate.
Step 4: Melt butter in a bowl. Pour powdered sugar in it and start beating it. It will give a creamy texture. Then add 1 tsp of vanilla essence to it. Mix it slowly followed with adding and beating eggs to the mixture. Add the prepared maida mixture to this and mix well.
Step 5: Now, pour Nestlé a+ nourish Milk to it.
Step 6: The batter is ready. Now pour this batter mixture in the baking tin. Place this tin in the preheated oven for a duration of 40 to 45 minutes. Lastly, insert the toothpick to check whether the cake is completely baked or not. If it comes out clean, it means that the cake is ready.
Step 7: Take it out of the oven and let it cool. Once cool, turn it around and place it on the plate.
Recipe for fudge icing:
Take a small bowl and add Nestlé MILKMAID, butter and cocoa powder. Beat it well in a way that there are no lumps. Then place it in a microwave for approximately 20 seconds. Take it out and mix it.
Lastly, take this mixture and pour it over the cake. Let it set. Now this delicious chocolate cake is ready to be sliced and served.
Black forest cake (eggless)
One of the safest cakes preferred by many is the 'Black Forest cake'. It is truly a saviour in times when your guests are not much of a chocolate lover. So, quickly get to learn its recipe.
Ingredients:
1 tin (400 gms) Nestlé MILKMAID
3-4 heaped tbsp (25gms) Cocoa Powder
2 tsp Icing Sugar/Powdered Sugar
200 ml Aerated Soda
1 tsp Baking Powder
100 gms Butter
1 tsp Baking soda
1small Tin Cherries
50 gms Milk Chocolate
1 tsp Vanilla Essence
200 gms Fresh Cream
1¾ cup (175 gms) Maida (All-purpose Flour)
Recipe:
Step 1: Take a baking tin and grease it. Then dust maida on it.
Step 2: The oven should be preheated at 180o C.
Step 3: Take a bowl and sieve cocoa powder, baking power, maida and baking soda.
Step 4: Take a soft butter and add in Nestlé MILKMAID. Beat it well. Then pour in some vanilla essence.
Step 5: Take that maida mixture in the batter along with aerated soda alternately in the MILKMAID mixture till it finishes up.
Step 6: Add this batter on the greased baking tin. Place it oven to cook for 50 minutes approximately. Once done, check it with the help of a toothpick.
Step 7: Once cooled, place it on the plate upside down. Cut it horizontally into 2 portions.
For topping:
Take cherries, drain them and take out their seeds. Take cherry syrup and soak the cakes in it. Take fresh cream and whip it adding sugar till it is fluffy and light.
Spread this whipped cream mixture on both the cakes back-to-back followed with chopped cherries.
Spread this topping layer on the cake and garnish cherries and grated chocolate on it.
Serve it chilled.
Conclusion:
Now that you have these two amazing cake recipes with you, your birthday party will be full of excitement and happiness for kids.